Labels
303 GALLERY
AGE OF AQUARIUS
AI WEIWEI
ALDO MONDINO
ALIGHIERO BOETTI
ALLORA & CALZADILLA
AMSTERDAM
ANDREAS GURSKY
ANDREAS SCHON
ANDY CROSS
ANDY WARHOL
ANISH KAPOOR
ANNE IMHOF
ANSELM KIEFER
ANTON CORBIJN
ARNDT
ARNOLFINI
ART PROSPECT
ARTISSIMA
ARTIST BOOK
ATTILA CSORGO
BALI
BARBARA KRUGER
BARCELONA
BASEL
BASQUIAT
BEATRIX RUF
BELA KOLAROVA
BENJAMIN DEGEN
BEPI GHIOTTI
BERLIN
BERND E HILLA BECHER
BETTY WOODMAN
BIENNALE
BORIS MIKHAILOV
BRISTOL
BROOKLYN MUSEUM
CAI GUO-QIANG
CAMILLE HENROT'S
CANDIDA HOFER
CARDI GALLERY
CARL ANDRE
CAROL RAMA
CAROLEE SCHNEEMANN
CARSTEN HOLLER
CASTELLO DI RIVARA
CASTELLO DI RIVOLI
CATHERINE AHEARN
CENTRE POMPIDOU
CHARLES RAY
CHARLINE VON HEYL
CHICAGO
CHRIS BURDEN
CHRIS WATSON
CHRISTIAN BOLTANSKI
CHRISTIE'S
CHTO DELAT
COLOGNE
CONCEPTUALISM
COPENHAGEN
COSMIC CONNECTIONS
CRISTIAN BOLTANSKY
CY TWOMBLY
DAMIEN HIRST
DAN GRAHAM
DANH VO
DANIEL EDLEN
DANIEL RICH
DANNY MC DONALD
DAVID ZWIRNER
DIA ART FOUNDATION
DIET WIEGMAN
DIETER ROTH
DOCUMENTA
DUBAI
DUSSELDORF
ED ATKINS
EDEN EDEN
ELGER ESSER
EMILIO ISGRO'
ESKER FOUNDATION
ETTORE SPALLETTI
EVA HESSE
EVA PRESENHUBER
FANG LIJUN
FAUSTO MELOTTI
FELIX GONZALES-TORRES
FILIPPO SCIASCIA
FONDATION BEYELER
FONDATION CARTIER
FONDAZIONE MERZ
FRANCESCO BONAMI
FRANCESCO POLI
FRANCESCO VEZZOLI
FRANCIS BACON
FRANKFURT
FRANZ KLINE
FRIEDMAN
GABRIEL OROZCO
GABRIEL YARED
GAM
GARY ROUGH
GEORGE BURGES MILLER
GEORGE HENRY LONGLY
GERHARD RICHTER
GILBERT & GEORGE
GIULIO PAOLINI
GLADSTONE GALLERY
GREENE NAFTALI
GUENZANI
GUGGENHEIM
GUGGENHEIM BERLIN
GUGGENHEIM BILBAO
GUILLAUME LEBLON
HAMBURG
HAMBURGER BAHNHOF
HAMISH FULTON
HANGAR BICOCCA
HAUSDERKUNST
HAUSER & WIRTH
HE XIANGYU
HELENA ALMEIDA
HEMA UPADHYAY
HENRY MOORE
HIROSHI SUGIMOTO
HOWIE TSUI
HUANG YONG PING
IAN BREAKWELL
ICA
ICHWAN NOOR
INSTALLATION
INTERVIEW
ISABELLA BORTOLOZZI
ISTAMBUL
JAMES LAVADOUR'S ROSE
JAMES MELINAT
JAMIE XX
JANET CARDIFF
JANNIS KOUNELLIS
JASSIE BOSWELL
JEFF KOONS
JEPPE HEIN
JESSICA WARBOYS
JIVYA SOMA MASHE
JOAN FONTCUBERTA
JOHN BALDESSARRI
JOHN MCCRACKEN
JOHN STEZAKER
JON RAFMAN
JORG SASSE
JOSEPH KOSUTH
JOTA CASTRO
JURGEN TELLER
KARA TANAKA
KARL ANDERSSON
KARLSRUHE
KAVIN APPEL
KONRAD LUEG
KUNSTHAUS
KUNSTMUSEUM
LARRY BELL
LIA RUMMA
LISSON GALLERY
LIU YE
LONDON
LOUISE BOURGEOIS
LUC TUYMANS
LUCIAN FREUD
LUCIE STAHL
LUIGI MAINOLFI
LUISA RABBIA
MADRE
MAM PARIS
MARC QUINN
MARCO CASSANI
MARIA CRISTINA MUNDICI
MARIAN GOODMAN
MARINA ABRAMOVIC
MARIO MERZ
MARK LECKEY
MARK ROTHKO
MARTIN KIPPENBERGER
MARTIN McGEOWN
MARZIA MIGLIORA
MASSIMO DE CARLO
MATTHEW BARNEY
MAURIZIO CATTELAN
MAX SCHAFFER
MAXXI
MIAMI
MIKE PARR
MILAN
MIMMO ROTELLA
MING WONG
MOMA
MONTREAL
MOUSSE
MUMBAI
MUYBRIDGE
NATIONAL GALLERY
NEW YORK
NICO MUHLY
NOBUYOSHI ARAKI
NOTTINGHAM CONTEMPORARY
NY
OFCA INTERNATIONAL
OLAFUR ELIASSON
OSCAR MURILLO
OTTO PIENE
PACE GALLERY
PAOLA PIVI
PAOLO CURTONI
PARIS
PAUL MCCARTHY
PERFORMANCE
PHILIP GLASS
PHILIP-LORCA DICORCIA
PHILIPPE PERRENO
PHILLIPS DE PURY
PHOTOGRAPHY
PIA STADTBAUMER
PIPILOTTI RIST
PORTRAITS
PRISCILLA TEA
RAPHAEL HEFTI
REBECCA HORN
RICHARD LONG
RICHARD SERRA
RICHARD T. WALKER
RICHARD TUTTLE
RINEKE DIJKSTR
ROBERT MORRIS
ROBERT SMITHSON
ROBERT SMITHSON'S
ROBIN RHODE
ROMA
RON MUECK
RUDOLF HERZ
RUDOLF STIEGEL
RUDOLF STINGEL
SAM FRANCIS
SANTIAGO SERRA
SARAH SUZUKI
SCULPTURE
SHARJAH BIENNAL
SHIGERU TAKATO
SIMON THOMPSON
SOL LEWITT
SOPHIE CALLE
SPY
STEDELIJK MUSEUM
STEPHAN BELKENHOL
STEVE MCQUEEN
STEVE REINKE
SUBODH GUPTA
SUSAN PHILIPSZ
TALA MADANI
TATE BRITAIN
TATE BRITIAN
TATE MODERN
TERESA MARGOLLES
THADDAEUS ROPAC
THE RENAISSENCE SOCIETY
THOMAS EGGERER
THOMAS HIRSCHHORN
THOMAS RUFF
THOMAS SARACENO
THOMAS STRUTH
TIM FAIN
TOBIAS ZIELONY
TOM FRIEDMAN
TONY COKES
TONY CONRAD
TONY CRAGG
TOO MUCH
TOTAH
TOZER PAK
TURIN
TURNER PRIZE
UGO RONDINONE
UK
ULAY
VANESSA BEECROFT
VENICE BIENNALE
VERA LUTTER
VICTOR MOSCOSO
VICTORIA MIRO
VIENNA
VIK MUNIZ
VOID SERIES
WHITE CUBE
WHITECHAPEL GALLERY
WIELS
WILLIAMS PRESENHUBER
WU TSANG
YAN PEI-MING
YANG YONGLIANG
YOHJI YAMAMOTO
YOKO ONO
YUSUKE BENDAI
YVES KLEIN
ZHANG DAQIAN
ZURICH

5.4.12
Robin Rhode, Board (detail, 2003), 28 chromogenic color prints, each 11 3/4 by 18 inches,
Image courtesy of the artist and Perry Rubenstein Gallery, New York. © Robin Rhode
Playing with abstraction illusionism, Robin Rhode (*1976, Cape Town, South Africa) hijacks public space and transforms it into a personal dreamscape where flat renderings of daily objects becomes 3-dimensional ones. Through a precise physical interaction with his drawn objects which Rhode then registers by photography and composes into digital animations, simple abstract shapes are transformed into elements of narratives, often highlighting moments of conflicts and possible failure. In Board (2003), for example, the persona (played by the artist himself) attempts get hold of all the commodities fallen from heaven like in a video game. However, beyond than an individual's capacity, these objects (TV, table, chair, cars, etc) all crashed into the persona and finally killed him, evoking a shared desire for urban property and success among his generation.
In the interview, Robin Rhode shares with us his concepts of art, his growing up in South Africa, his insecurity and uncertainty as a young artist migrating into the centre of the art world from a periphery region.
Robin Rhode's work is currently showing in Framed, Indianapolis Museum of Art – IMA, until 06 March 2011; The Dissolve, SITE Santa Fe Biennial 2010, Santa Fe, NM , until 06 Feb 2011. Rhode will also participate in 21st Century: Art in the First Decade, Queensland Art Gallery / Gallery of Modern Art, Brisbane, starting on 19 Dec 2010; Staging Action: Performance in Photography Since 1960 in MoMA - Museum of Modern Art, New York, opening on 28 Jan 2011.
Robin Rhode
ST – Selina Ting for initiArt Magazine
On Claiming Space in Street Art
ST: You have been living in Berlin since 2001. Are you now doing work in Berlin as well?
Robin Rhode: No, not in Berlin. I tried but it doesn't work. There are always alerted police observing me, curious neighbors watching me. It's too much. Whereas in South Africa, the city is more losing, wild, the space is undefined, opened, free for everyone to claim. When you do street art in Johannesburg, you feel like you have to take the space now, it's yours now. Maybe tomorrow someone will take over your work, but there is this new democracy that allows individuals to see and understand public space and the self differently. There is a room for you to create for yourself.
ST: It's also to do with the concept of public and private sphere, which is the politics of street art. But I wonder it's also part of the lifestyle in Africa where the habit of carrying out part of the private life in the public space is very common.
Robin Rhode: Definitely! Life in South Africa is more community-oriented and the sense of society is more conscious to the people – everyone is involved in the public community life. Europe is so dense, so closed that you have mental block. People tend to keep a distance. That's why sometimes I struggle to work in the streets here. Berlin is a place for me to contemplate, to devise strategies of working. My studio is also an interesting place where I do all the drawing process. So when I go to the street, I execute my work very fast. I know what I have to do, the rhythm, the image, the composition, the movements, etc. I go to the street very well-prepared.
ST: Can we say that your Berlin studio gives you a context for analytical thinking, and out in the street, it's the spontaneity that rules?
Robin Rhode: Yes, exactly! And I use the analytic position to adjust myself to a point so that when I enter a public context, I am able to allow my spirit to release and to be absorbed by the particular space. For example, the new work with Berlin Chair [Requiem for a Pavilion of Silence (2010)] that I have just showed you, when we were on the site, my performer looked at me after we sprayed the drawing, and said, "now what?" I was thinking what we were going to do. The preparation was up to this point, and now we had to be inspired and just do what we felt from the space. It was very organic; just let the process come to you. You know, we had all these graphic forms, now we had to allow the space, the situation to take us to the final destination.
Robin Rhode, Requiem for a Pavilion of Silence (Still), 2010. Digital animation, Courtesy of the artist & Perry Rubenstein Gallery
ST: Which means, though you prepared well in your studio, you don't come to the spot with all the sequences on papers or in your head.
Robin Rhode: No. We don't prepare the drawings, because you can't find exactly what you want in a single space. You have to adapt to the situation, and there is the outside influences that force me not to do the images in a certain way.
ST: So, just the framework and then improvise.
Robin Rhode: Yes. We prepare the idea but we allow all the elements from the space to influence us. We allow risks to emerge and find solutions to the problems.
ST: Most of your works are highly choreographed, and you actually filmed them from an aerial angle, how did you manage to have the precise bodily position?
Robin Rhode, He Got Game, 2000. 12 C-prints face-mounted with Plexiglas on aluminum panels, 9 x 11 3/4 in., each panel. Courtesy of the artist and Perry Rubenstein Gallery, New York. © Robin Rhode
Robin Rhode: The physicality is being choreographed… Maybe I have a physical narrative that offset by the drawing narrative. The drawing is dictating other physical aspects and I am often confronting the physical aspect of my working process.
ST: Is this sense of physicality, of choreographed positioning a gift or a trial-and-error training process?
Robin Rhode: I won't say it's a gift otherwise I would be thinking too much about myself. But I think it has something to do with my childhood. The society where I grew up was very gestural, very performative, very storytelling. People love making jokes and creating situations, manipulating everything into something gestural and funny. I still remember all the jokes and how they turned silly situations into some entertaining. It also has to do with the social situation. I think it was almost a way to cope with the political dramas. When I was a student, I realized this kind of very unique situation, how the body devised a way to transcend the socio-political situation. I had a lot of fun in observing all these. But of course, I had very strong memories of violence, of political instability. But at the same time, there was freedom; it was a moment for wild creativity and fun.
ST: Because it was a moment of vacuum, a moment of unforeseeable changes that one has to be very alert and flexible. Also, body language is something that can be easily passed on from one to another. I am now influenced by the way your talk, the way you move your body. So I can imagine you as a kid imitating the politician's talk show on the TV, for example. Through these, you develop an understanding of how the body and gestures work.
Robin Rhode: It's a whole system of science!! [Laugh…]
ST: Are you a good dancer? Sorry for the stereotyping, but it seems like every African in sneakers will do a hip-hop and every African in black suit and white gloves will start tap dancing, like in Promenade…
Excerpt from 'Promenade', 2008, HD animation, 05mins. Copyright Robin Rhode. Courtesy the artist, Perry Rubenstein Gallery, New York, and Tucci Russo Studio Per L'Arte Contemporanea, Turin.
Robin Rhode: well, that's me! [Laugh…] I don't dance a lot now but I was a break dancer, dancing in the streets. I am very much into street art. But I am not a graffiti artist.
ST: Your work is more conceptual than graffiti…
Robin Rhode: Yes. Some graffiti artists reject my work but some like it a lot, and find it very flexible. Because it can be shown in a contemporary art context, but can be just be out there in the street. I like to keep this flexibility. I don't reject the white cube, I don't give priority.
On the Aesthetics of the Desire
ST: What kind of graffiti art did you see in Johannesburg when you were young?
Robin Rhode: Actually there wasn't that much graffiti art, it was mainly mural paintings. They were closer to official mural art with an educational purpose, even religious symbols, cityscapes of New York, of Venice, lakes of swans, images of African bourgeois life, etc.
ST: Sounds like they all referred to another kind of aesthetics which was not available in the daily life.
Robin Rhode: Absolutely! It was fascinating, I loved them so much. It was almost like a dreamscape for me. The murals were not done by skillful artists, but people with passions for beautiful life... Let's paint the skyline of Manhattan, because that's the shortest way to New York. Or let's paint the Venetian canal… it was very fascinating because the desire is very authentic. But aesthetically I couldn't really relate to it because of the lack of technique. So I said to myself "I could do it better than this". It's funny, I didn't realize until now that what I am doing is in fact influenced by what I saw at that time!
ST: It's like a fixed physical space that allows you to travel to your dreamland.
Robin Rhode: Yes, I love the idea of taking a public space and transforming it into another world. Now all the images are coming back to me!! I remember there is a mural in a very dangerous area, lots of gangster and drug addicts there. But on the mural, you saw ballroom dancers under the moonlit sky! I thought it was so real and so unreal at the same time. It was wonderful to me because I understood the motivation, why these images existed there. Here in Berlin graffiti art is highly stylized, just super graphic tags. I am not interested in working in this kind of context.
ST: Your work is full of fantasy as well, all the minimal geometrical forms make them elegant and poetic.
Robin Rhode, Untitled, Harvest, 2005. Digital Animation, 3mins. *Film still. Courtesy of the artist and Perry Rubenstein Gallery, New York. © Robin Rhode
Robin Rhode: Now I am thinking that maybe I am too poetic! Perhaps I should be very rough and edging.
ST: You don't feel comfortable with the term "poetic"? Because it contradicts your interests in popular cultural forms?
Robin Rhode: Because I didn't start with the idea of being "poetic". I was trying to be rough, quick and cool, that's why they are just marks, sprays, and charcoal. At this phrase, I am more abstract, but if a drawing shift to becoming poetic, I can't escape it.
ST: But it has also to do with the music, the colour, the mood, as well… How did you choose the music?
Robin Rhode: I worked with a musician friend from Berlin and we just brainstorm on it.
ST: Why piano?
Pictures Reframed (Leif Ove Andsnes-Robin Rhode) Paris - December 11th 2009
Pictures Reframed (Leif Ove Andsnes-Robin Rhode) Paris - December 11th 2009.
Robin Rhode: It's just recently. I did a world tour with the pianist Leif Ove Andsnes last year. What I tried to do is to deconstruct the notion of the piano and I became very influenced by the object. That's why there is Promenade (2008), it was inspired by Modest Mussorgsky's piano music (1864). So there is this kind of poetic journey…
ST: Let's talk about the idea of the journey… What an image can create? Like the mural paintings in your youth, they project a desire, a dream and fantasy onto the onlookers and took them onto a journey towards a better future. That's also what your works are about.
Robin Rhode: Yes. I guess it's a very central theme. But at the very beginning, I didn't see that. It was about taking the space and creating an imaginary world, giving the space a power, and making public our shared dreams.
ST: Do your works stay where they were created?
Robin Rhode: Sometimes. It depends on the landlord. If it's not a commission, then I would get myself into troubles if I didn't have the permission. At the very beginning, I was even beaten for that. Now I negotiate for the permission. Sometimes my work would get bombed by the other graffiti artists, but I don't care since my work is the photograph and the video. Recently, when I returned to Johannesburg, I found my works actually stayed. I think they started to like this kind of abstract drawings. But you know, sometimes the older generation would ask me "please leave us a message, please tell the youth to say no to crime!"
ST: Haha… they want you to become a traitor in your street art community!! Are you a missionary now?!
Robin Rhode: These are the community people, drawing on wall for them are that kind of murals which should have a message. Now, as I continue to work in South Africa, the younger generation there start to see this as another escape. Someone is doing something on wall which is about the act of doing, about constructing false imaginations on the wall for the pure pleasure of doing, and not controlling or dictating certain kind of social values. Maybe I should create this freedom in the community for people to do things for their own great spirit. Maybe I should try to do this!
ST: Another kind of missionary, sir!
Robin Rhode, Blackhead, (Detail)2006. 16 digital pigment prints mounted on four-ply museum board, 15.5 x 22 inches each panel (39.4 x 55.9 cm). Courtesy of the artist and Perry Rubenstein Gallery, New York. © Robin Rhode
ST: Why did you choose to settle down in Berlin?
Robin Rhode: It was for love, not for art. I moved to Berlin for the woman I love who is now my wife.
ST: Romantic love story! How did you feel at the beginning?
Robin Rhode: It was very difficult at the beginning, I never feel myself part of the Berlin art scene. It has to do with my identity. Berlin is very international but still it's a very white scene, very European. I was always the only black in the events and I was easily marked out by people.
ST: You felt insecure when you just moved Berlin? Like uncertain with your work?
Robin Rhode: Yes!
ST: Still?
Robin Rhode: I think yes! It's the ambivalence of being in and out. You know, when I first arrived, I found works of artists by my generation highly conceptual, grounded on Western modernity, and I felt very insecure because I didn't feel that I had the same grounding, the same foundation of ideas, of influences, and the same accessibility to theory, history, literature, philosophy, etc. They were so advanced in theory and I didn't have the same level of education. All these created a distance and an insecure sense about my work.
ST: How did you overcome all these?
Robin Rhode: I became a scholar! I did research, I picked up knowledge and information. My artist friend Moshekwa Langa felt the same, so we worked very hard together to inform us with all kind of information. In my formative years in Johannesburg, we learnt only the skills not the theories. When I saw a European artist making art about a particular philosopher, it was a complete luxury to me. So, I have been accumulating knowledge and keep growing. Now I have developed my skill, I have developed my knowledge, and now I would claim my situation!
Robin Rhode, Empty Pockets, 2008. Digital animation, 1min20. Courtesy of the artist and Perry Rubenstein Gallery, New York. © Robin Rhode
ST: You are ready, so you don't need to feel insecure anymore!
Robin Rhode: Well… I do! But it can be a kind of motivation! Now I like to think that even I am from a particular geographical periphery, I don't need to be associated with that, my work can touch on other aspects. That's what I am doing every time when I go back to Johannesburg, I talk a lot about how our work can be related to something else and not necessarily always be referred to its geographical cultural position… how our work can also have impact on other aspects of art, etc.
ST: It's also about the ambivalent attitude of assimilation and alienation in the global art market for contemporary art. An artist from the periphery regions is expected to produce recognizable cultural symbols in order to be catalogued into a marketable group.
Robin Rhode: Yes… but the market shifts and speculates on short term basis, at a moment, African artists were hot, then Chinese artists were hot, then it was South American artists' turn, now Indian artists are hot, etc.
Robin Rhode, Stone Flag, 9 C-prints face-mounted with Plexiglas on aluminum panels, 12 x 18 inches each panel (30.48 x 45.72 cm). Courtesy of the artist and Perry Rubenstein Gallery, New York. © Robin Rhode
ST: Still remember your first solo show? Was it in Berlin or Johannesburg?
Robin Rhode: My first solo show was in a public art space in Johannesburg, and 50% of my works was stolen. I made an installation with old shoes stuck inside the wall, you can imagine an invisible being climbing the wall, and at the end of the show, all the shoes were stolen by homeless people.
ST: Oh, they really needed the shoes!!
Robin Rhode: Yeah, I just found it very poetic!
ST: It's a very nice Act as well… from the artistic, aesthetic dimensions to the functionality of the work!!
Robin Rhode: This kind of situations interest me and also allow me to develop certain concepts, such as the idea of the different formalities of object and art… should it be interactive? Should a sculpture become a tool that allows public to interact so it won't be isolated? Etc. I remember one time I did a performance in Johannesburg where I draw a bike on the wall and tried to ride it. Then a security guard came, I thought he was going to catch us all, but then he said, "wait, let me help you on the bike"…
ST: … in his uniform!
Robin Rhode: Exactly!
Robin Rhode, Classic Bike, 1998. 12 C-prints face-mounted with Plexiglas on aluminum panels. 9 1/4 x 12 1/2 in., each panel. Image courtesy of the artist and Perry Rubenstein Gallery, New York. © Robin Rhode
ST: He has a good sense of humour which turns a dangerous situation into something constructive.
Robin Rhode: Yes, and again, this is typically a South African situation. So I started to work on the idea of audience participation. Later, I initiated the concept of Drawing Field, where I reversed the role of the voyeurs and got them to do the performance. Most of my recent performances adapted this format, i.e. I initiate the performance and then throw it over onto the audience.
ST: At the same time the topic or subject you chose do have an echo in the audience, they are always about the desirable commodity, pop culture, such as the bicycle, the furniture, the sport, etc.
Robin Rhode: Yes, I take familiar situations into my work. The objects imply games… I like the idea of inclusion and exclusion in the games that you want to be involved, to contribute. This is very much the participatory format of my performance.
ST: Thank you very much!

Robin Rhode performance, Haus der Kunst, Munich, 2007.
Black & white shoes sculpted in charcoal and chalk. A bike created in soap. Percussion instruments with paper. Dance by Jean-Baptiste André. Music by Thomas Lacher, Christog Dienz and Martin Brandlmayr. Choreography by Robin Rhode.
Robin Rhode is a South African artist, born 1976 in Cape Town, South Africa, now based in Berlin. In 1998, he obtained a diploma in Fine Art from Technikon Witwatersrand in Johannesburg, South Africa, followed by a postgraduate program at the South African School of Film, Television and Dramatic Art in Johannesburg.
Rhode had his first solo exhibition at Perry Rubenstein Gallery in New York in 2004. In 2005, he was featured in the 51st Venice Biennale and New Photography at the Museum of Modern Art in New York. In 2007 he had a large-scale exhibition at the Haus der Kunst in Munich. In September 2008 he had a solo show at the Hayward Gallery and White Cube Gallery, London. In 2009, Robin Rhode collaborated with the Norwegian pianist Leif Ove Andsnes to build the stage design and visual accompaniment for Andsnes' contemporary exploration of Modest Mussorgsky's piano suite of "Pictures at an Exhibition" which premiered at Lincoln Centre, New York City, in November 2009. This year, Rhode opened his solo show Robin Rhode in Los Angeles County Museum of Art, LA.
Robin Rhode is represented by Perry Rubenstein Gallery, New York.
3.4.12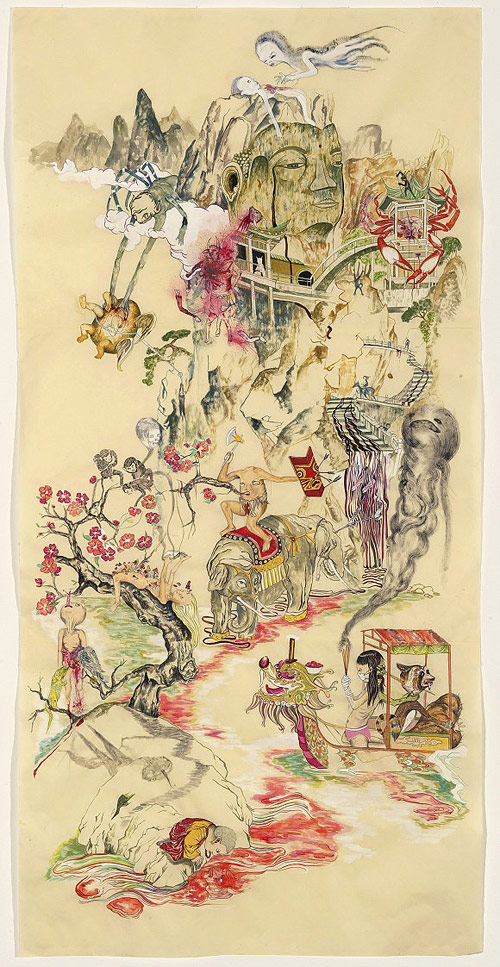 What was it like growing up in Nigeria?
I have romantic memories about living in Nigeria. I had this crush in Junior Kindergarten, Lindsay, who I'd bring flowers to. I had this bilingual African Grey parrot Oscar, that I'd always talk to. We had a chauffeur and a maid. There were violent thunderstorms, high fevers and the resultant hallucinations of melting Disney characters. Someone in our complex had a Bruce Lee figure on their motorbike license plate. I watched a lot of anime and kung-fu dramas sent to us by my uncle. I went to an American International School and our class looked like a Benetton ad.
Sorry it's all in fragments. Just digging through the banks. Regardless, the irony is that I thought this was a magical wonderful place, while my mom was very paranoid that I'd get kidnapped and would pick me up everyday from school. We also had to get out because there was political instability and the airport had been taken over by a rebel faction.
How's it living in Ottawa now? Is it hard to survive as an artist there?
It's pretty nice here and the city has been very receptive and supportive of my work. It's very comfortable living and there are pockets of folks that enrich our local culture. Unfortunately, there lacks some infrastructure and a sizable demographic interested in the arts to foster what would be considered a vibrant and progressive local art scene. People have been working hard for years, even decades to try to update and expand artistic tastes to greater swath of people. Despite that hard work and passion the city is often victim to the shadows of larger national museums and artistic brain drain. I would say bureaucracy, a culture of complacency and a general undervaluing of cultural capital is responsible for this.
In terms of food-on-the-table survival, being based here has its advantages. I have been fortunate enough to receive funding from all 3 levels of government to develop my practice. I have a sneaking suspicion, though, that regional disbursement combined with a less aggressive artistic community has proven beneficial. I hear out in Vancouver, where you are, there isn't any municipal artist grants (only specific project-related grants) and provincial grants are fought over ravenously by everyone. I actually had an officer from the BC Arts Council come to my performance this past Friday at Centre A, and the third thing he said to me was, "there is no arts funding money out here". On the flip side, commercially, $400+ price tag seems to induce pee-dribbles for art buyers here, where as in Vancouver, there is a wealthier and more engaged collector base, with ties internationally, that understand the value of art.
The most difficult part about living here for me is the overwhelming mono-culturality in spite of the city's diverse ethnic makeup. If that makes sense at all. The benefit is that I can really focus on work and not get too carried away by scene fuckery and social temptations. I used to think working in a bubble was horrible, but now, I'm not sure I could work in a situation where I share studio spaces with people.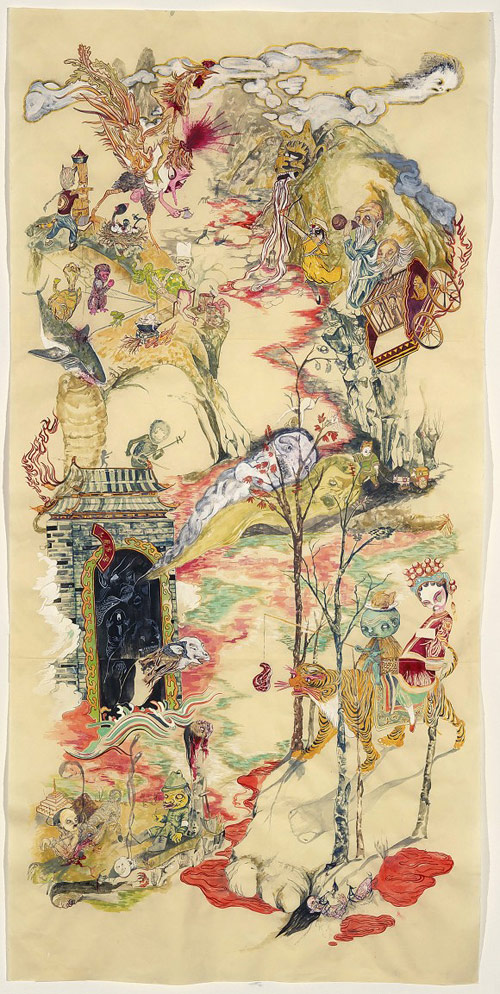 Your early work was quite different and I believe you said it was like you were more focused on making work to sell. Do you find it a struggle now that you're making more conceptual work, when your livelihood depends on people purchasing your work?
I think coming out of art school green, the commercial side of art was easier to comprehend. Especially, since those experiences were pretty small scale endeavours. I think I looked more at commercial artists at the time and now I'm looking at art from both sides of the spectrum. Since I live in Ottawa, where there isn't much of an art market here, I initially had to cater to the local price tolerance by making lots of small work. Luckily, I've been able to get by without much of a focus on commercial sales in the past four years. With the support of public funding bodies, I have been afforded the opportunity to develop my practice without the influence of market forces. This has meant that I've been able to keep all my work intact and be able to present them together in larger and larger venues as the body grows and mutates.
The idea of selling an entire series to a museum, allowing for public access to my work in the future, seems very attractive and somewhat plausible now since I've kept all the children together and they've been shown across the country. My hope is that when I re-engage with the commercial side of things, I will have left a solid public exhibition record which proves how my practice tends to organically shift into other areas when left to its own devices.
Who are some of the artists that have influenced your drawing style?
Hokusai, Akira Toriyama, Jim Henson, Yun Fei Ji, Barry McGee, Ikeda Manabu, Akira Yamaguchi, Anders Nilsen, the nameless Ming dynasty engraver who worked on "Mountain and Seas Classics", Toriyama Sekien, Chris Hipkiss, Henry Darger, Jockum Nordstrom and Hanna and Barbera.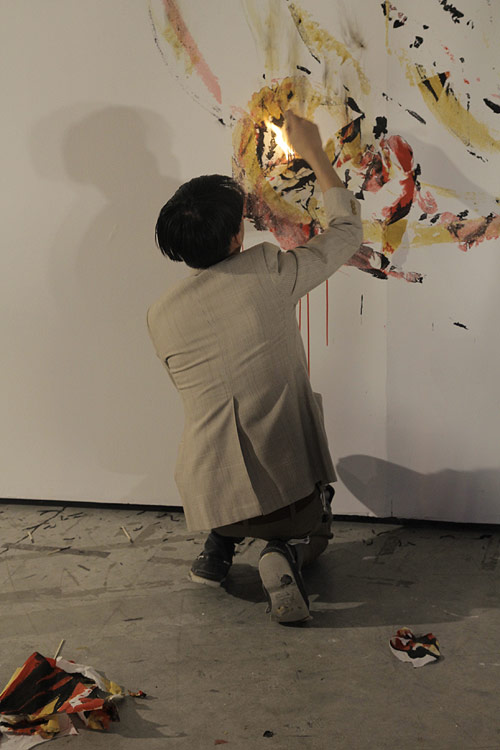 Can you talk a little bit about your artwork for this wallet series?
To be honest, I was super occupied producing this new project "Celestials of Saltwater City" – a magic lantern performance in the tradition of Utsushi-e or Japanese phantasmagoria. This new endeavor was a pretty big leap in my practice so it really consumed me whole hog. I gave Poketo carte blanche with their choice from my Horror Fables series. Apologies for the artspeak, but this is pretty much the most concise way I can describe some of the ideas behind this body of work: Horror Fables is a scroll-painting project that uses imagery from ancient Asian ghost stories to satirize the disturbing climate of fear in contemporary society. By juxtaposing disparate cultural practices, I emphasize the disjunction between how fear is administered in folklore to encourage morality as opposed to its deployment in modern society, where a pervasive climate of terror is used to further partisan political and economic interests.
I actually kept coming back to your Horror Fables series when I was thinking about this project so it worked out perfectly that you wanted to use images from it for this series. If you illustrated your own life as a fable what would the moral of the story be?
Whoa… That's a crazy question. Maybe… 'adaptation' ? I think the answer relies heavily on how I end up biting the proverbial dust.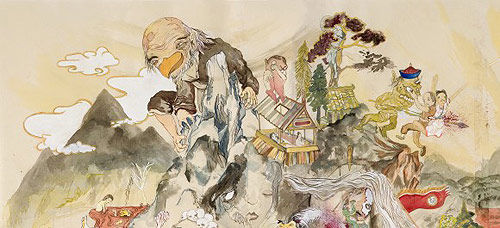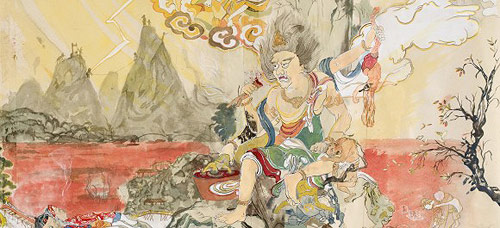 Would you consider yourself a spiritual person?
I think in my life, I've vacillated between hard atheist and romantic agnostic. I have certainly been told that I am a 'spirited' person. But that's because I'm drunk (boo). Honestly though, I've been researching ghost stories, Buddhist hell scrolls, cultural superstitions and feng shui for the last few years, and the belief of something beyond the scientific has been playing a larger role in my psyche. I think a lot of atheist change notes momentarily when some serious shit happens, whether it's coping with death, complications with health or being sideswiped by love.
I've also witnessed actual supernatural things while on tour with a band I used to play in (The Acorn). These incidents usually happen in old ass hotels. At the Senator Hotel in Saskatoon. I was stripped naked in my sleep (something I don't do). Another bandmate woke up with what appeared to be a spilled glass of water on only the upper side of his torso; weird flashes of light in the mirrors; people getting locked in bathrooms even though it locked from the inside. In the UK, we normally stay in this retirement town Folkstone before we take the Chunnel over to France. One night in our hotel room, a small diamond of light hovered over me while I was in bed. In a second it expanded, flashed and illuminated the room. I started laughing hysterically and my bandmate, in the other bed, thought I had taken a photo of him with flash.
Your imagery often come across like you awoke from a dream and immediately started painting. Do you keep a dream journal?
I used to when I was in school. These days, I still have super vivid and effed up dreams (thanks late night noodles), but I tend to just give them a thorough think through and interpretation when I wake up and then let it filter back into my subconscious. I have a few scant sketches from here and there in recent years, but I haven't been very prolific with the documenting. Perhaps, I'll get back into that since you've brought it up. I really am a surrealist at heart.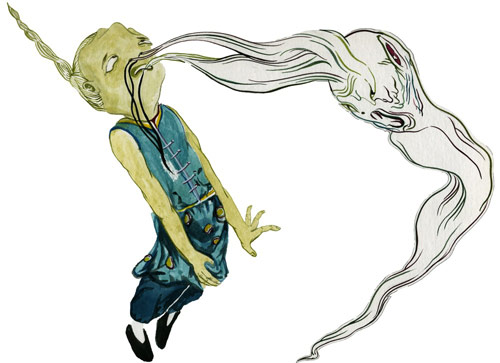 Watch a great video interview with him here.
See the entire Poketo x Booooooom "Afterlife" series here.
Now I'm gonna give away one of Howie's wallets! If you'd like to win it leave a comment below with an encouraging message to Howie! I'll pick a winner on Monday!