The grand space of the Duveen galleries, empty but for the melancholy sounds of 'War Damaged Musical Instruments'
Tate Britain's Duveen Galleries are currently filled with a hauntingly beautiful sound installation by Susan Philipsz (main picture). The Scottish artist won the Turner Prize in 2010 for a sound piece that didn't really work at the Tate. Intended to be heard under the bridges spanning the River Clyde in Glasgow, the recording of Philipsz's fragile voice singing sad folk songs was largely drowned out by ambient noise.
This time, though, she has been able to design the installation especially for this awesome space, which stands empty for the occasion. A central line of speakers hanging from the ceiling is augmented by others attached to pillars to create an evocative 3D soundscape. Notes from "The Last Post", familiar from Remembrance ceremonies and military funerals, are played on brass and woodwind instruments damaged in battles over the last 200 years.
The oldest are two bugles – one from the 1815 Battle of Waterloo, found beside the body of a 14-year-old drummer boy, and another from the Crimean War of 1854, blown by William Brittain of the 17th Lancers to sound the infamous Charge of the Light Brigade during the Battle of Balaclava. The most recent – a keyed bugle and two transverse flutes – were found in the Alte Münz Bunker in Berlin in 1945.
(Pictured below right: Klappenhorn [ruin])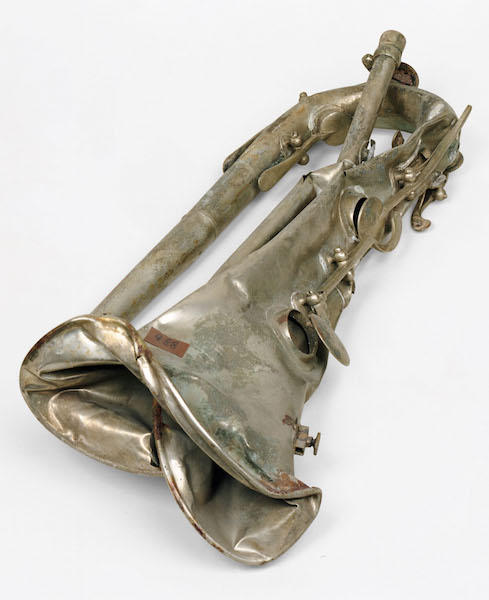 Philipsz was curious to see what sounds could be elicited from these severely battered relics, all of which are housed in British and German military museums. On video, one can watch various musicians attempting to play them, often producing little more than the sound of their own breath being funnelled through mangled tubing. "I am less interested in creating music than to see what sounds these instruments are still capable of", Philipsz explains, "even if that sound is just the breath of the player as he or she exhales through the battered instrument."
Watching a young man put his lips to a crumpled instrument is a moving experience; it makes one aware of the damage that weaponry can inflict on metal and flesh and brings into sharp focus the moment when the original player was probably killed or wounded. But it's the sounds themselves that are the most evocative. They travel round the empty space paying melancholy tribute to all those who lost their lives. Commissioned by 14-18 NOW, a programme of events marking the centenary of the First World War, this wonderfully restrained piece would certainly have deserved the Turner Prize