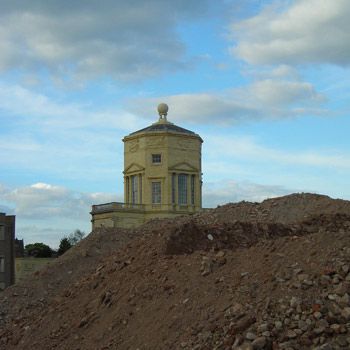 SUSAN PHILIPSZ
YOU ARE NOT ALONE

31 October - 3 December 2009

Open: Tuesday to Sunday 2pm – 5pm

Radcliffe Observatory
Green Templeton College,
University of Oxford,
Woodstock Road,
Oxford OX2 6HG,
United Kingdom



The Radcliffe Observatory, Green Templeton College, Oxford
Photography by Mick Scott
This autumn Modern Art Oxford presents a new work by the Berlin-based artist Susan Philipsz, entitled 'You are not alone', specially commissioned for the Radcliffe Observatory, Green Templeton College, University of Oxford. Built in the 18th century, the Radcliffe Observatory was modelled on the Tower of the Winds in Athens, a first-century BC clock tower embellished with sundials and crowned with a weather vane. Taking the original function of the building as her starting point, Philipsz has developed a new sound work that, with remarkable potency, engages with the uniqueness of this historical site.

In her work, Philipsz recalls Guglielmo Marconi's suggestion that sounds, once generated, never die; they fade but continue to reverberate as sound waves around the universe. A pioneer of radio technology later used in radio telescopes, Marconi may have been driven by this thought to investigate the potential of wireless telegraphy; to literally tune into the universe. In her evocative new commission, Philipsz elicits something of the existential and philosophical concerns present in Marconi's proposition and in the nature of the Observatory itself, as metaphorical frontier to the stars.

The artist has recorded herself playing radio interval signals (brief musical sequences typically played before or during breaks in radio transmission) sourced from around the world on vibraphone. In a new departure for the artist, Philipsz will for the first time use radio transmission as the audio source for her work. Four distinct recordings are broadcast from separate FM transmitters on the rooftop of Modern Art Oxford to receivers, placed at the Observatory, which pick up the individual transmissions and relay them to visitors through four speakers on the inside. Adding a distinct sculptural device in her use of time and space and the physical journey of sound across the city of Oxford, visitors to the Observatory will experience a lament of sound, which is given a distant, ethereal and haunting quality by the use of the vibraphone.

This commission has been made possible through the generous collaboration and support of Green Templeton College and is the first in a series of three proposed commissions for the Radcliffe Observatory.

A publication documenting the project with an introduction by Michael Stanley and text by Jörg Heiser will be later available from Modern Art Oxford.


Visitor Information
Open: Tues – Sun, 2pm – 5pm
Radcliffe Observatory, Green Templeton College, Woodstock Road, Oxford OX2 6HG, United Kingdom

Free admission

Suitable for ages 12+
No wheelchair access. For access enquiries please telephone +44 (0)1865 722733 in advance of your visit
EVENT

Artist in Conversation 11.30am Saturday 31 October
Susan Philipsz in conversation with Michael Stanley, Director of Modern Art Oxford at the Museum of the History of Science, Broad Street, Oxford OX1 3AZ.
Booking essential on +44 (0)1865 813800.